Longitudinal stability of brain and spinal cord quantitative MRI measures
Mathieu Boudreau1, Agah Karakuzu1, Arnaud Boré2,3, Basile Pinsard2,3, Kiril Zelenkovski4, Eva Alonso-Ortiz1,5, Julie Boyle2,3, Pierre Bellec2,3,6, Julien Cohen-Adad1,3,5,7
1NeuroPoly, Polytechnique Montreal, Montreal, QC, Canada,
2Centre de Recherche de l'Institut Universitaire de Gériatrie de Montréal (CRIUGM), Montreal, QC, Canada
3Unité de Neuroimagerie Fonctionnelle (UNF), Centre de Recherche de l'Institut Universitaire de Gériatrie de Montréal (CRIUGM), Montreal, QC, Canada
4Faculty of Computer Science and Engineering (FINKI), Skopje, Macedonia
5Centre de recherche du CHU Sainte-Justine, Université de Montréal, Montreal, QC, Canada
6Psychology Department, Université de Montréal, Montreal, QC, Canada
7Mila - Quebec AI Institute, Montreal, QC, Canada
Abstract#
Quantitative MRI (qMRI) promises better specificity, accuracy, and stability relative to its clinically-used qualitative MRI counterpart. Longitudinal stability is particularly important in qMRI. The goal is to reliably quantify tissue properties that may be assessed in longitudinal clinical studies throughout disease progression or during treatment. In this work, we present the initial data release of the quantitative MRI portion of the Courtois project on neural modelling (CNeuroMod), where the brain and cervical spinal cord of six participants were scanned at regular intervals over the course of several years. This first release includes three years of data collection and up to ten sessions per participant using quantitative MRI imaging protocols (T1, magnetization transfer (MTR, MTsat), and diffusion). Coefficient of variations (COV) over this timeframe ranged between 0.6% to 2.3% (intrasubject) and 0.4% to 3.5% (intersubject) for T1/MTR/MTsat in whole-brain white matter (WM), and between 0.6% to 1.3% (intrasubject) and 3.0% to 10.3% (intersubject) for diffusion FA/MD/RD in the three corpus callosum regions. In the spine, COVs ranged between 2.3% and 4.5% (intrasubject) and 5.1% to 9.7% (intersubject) for measured spine WM cross-sectional area (CSA) across the C2 and C3 vertebral levels, and between 3.9% to 9.5% (intrasubject) and 4.0% to 8.4% (intersubject) in WM across the C2 and C5 vertebral levels for all qMRI metrics (T1, MTR, MTsat, FA, MD, RD). Results from this work show the level of stability that can be expected from qMRI protocols in the brain and spinal cord, and could help in the design of future longitudinal clinical studies.
1     |     INTRODUCTION#
2     |     RESULTS#
Six participants were repeatedly scanned on a 3T MRI scanner (Prisma Fit, Siemens, Erlangen, Germany) approximately four times a year (up to ten times for this initial 2022 data release, with more scans regularly being acquired). Custom headcases (Caseforge, Berkeley, USA) were used for each participant to minimise movements during the imaging sessions. Two sets of imaging protocols were acquired (Figure 1), one for the brain (T1w, T2w, MP2RAGE, MTsat, B1+, and diffusion) and one for the spinal cord (T1w, T2w, MTsat, and diffusion).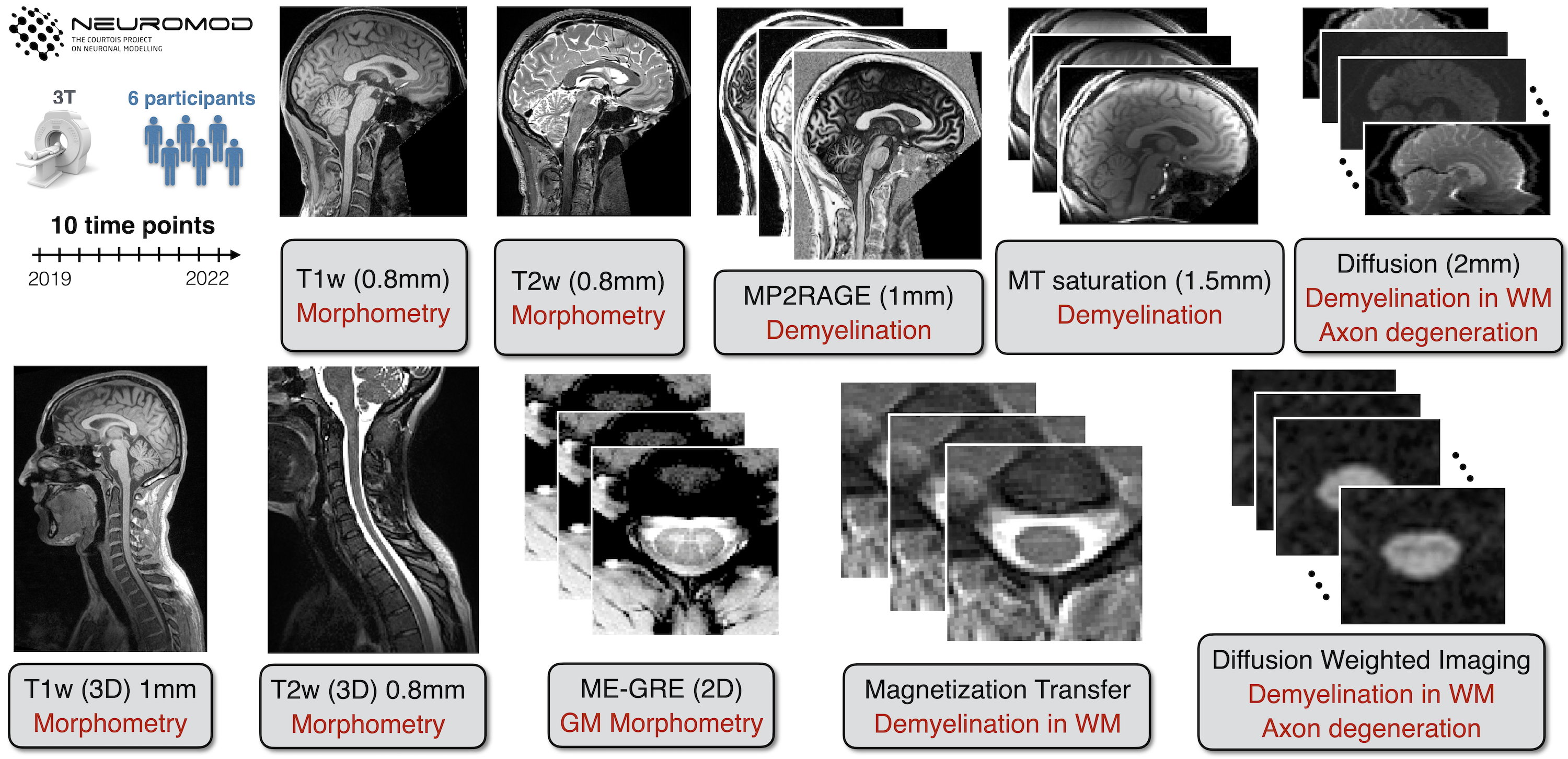 2.1     |     Brain#
Average quantitative MRI (excluding diffusion) values for the segmented whole-brain white matter (WM) and grey matter (GM) for each subject and session are shown in Figure 2. Missing data points are either unacquired sessions or because they were excluded after doing quality control, more details are listed in the "Quality Control" section. Note that MTR is calculated from a subset of the MTsat measurements, and B1 is not shown because it is only used as a transmit radiofrequency (RF) field correction factor for the MTsat measurement, and does not have biological specificity.
from

 

os

 

import

 

path




import

 

os





if

 

path

.

isdir

(

'analysis'

)

==

 

False

:


    

!

git clone https://github.com/courtois-neuromod/anat-processing-book.git analysis
    

dir_name

 

=

 

'analysis'


    

analysis

 

=

 

os

.

listdir

(

dir_name

)



    

for

 

item

 

in

 

analysis

:


        

if

 

item

.

endswith

(

".ipynb"

):


            

os

.

remove

(

os

.

path

.

join

(

dir_name

,

 

item

))


        

if

 

item

.

endswith

(

".md"

):


            

os

.

remove

(

os

.

path

.

join

(

dir_name

,

 

item

))





cwd

 

=

 

os

.

getcwd

()




os

.

chdir

(

'analysis/source'

)





from

 

tools.data

 

import

 

*




from

 

tools.plot

 

import

 

*




from

 

tools.stats

 

import

 

*





os

.

chdir

(

cwd

)





# Python imports 




from

 

IPython.display

 

import

 

clear_output




from

 

pathlib

 

import

 

Path




import

 

numpy

 

as

 

np





import

 

pandas

 

as

 

pd




pd

.

set_option

(

'display.max_rows'

,

 

None

)




pd

.

set_option

(

'display.max_columns'

,

 

None

)




pd

.

set_option

(

'display.width'

,

 

1000

)




pd

.

set_option

(

'display.colheader_justify'

,

 

'center'

)




pd

.

set_option

(

'display.precision'

,

 

1

)





data_type

 

=

 

'brain'




release_version

 

=

 

'latest'





dataset

 

=

 

Data

(

data_type

)




dataset

.

data_dir

 

=

 

Path

(

os

.

path

.

join

(

data_path

,

data_type

))





dataset

.

load

()




fig_gm

 

=

 

Plot

(

dataset

,

 

plot_name

 

=

 

'brain-1'

)